Jurassic World: Dominion Dominates Fandom Wikis - The Loop
Play Sound
Character Creation
[
]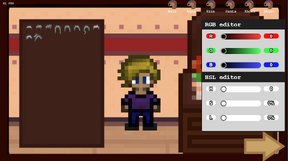 When you connect to Main Street and when you access your wardrobe you will be presented with the character customization screen.
Here, you can choose a hair style and change the color for the following:
Skin
Hair
Eyes
Shirt
Pants
Shoes
When you are satisfied with your changes you can press the arrow on the lower right to enter the world.
Don't worry though, you can always make more customizations later.
Learning the Interface
[
]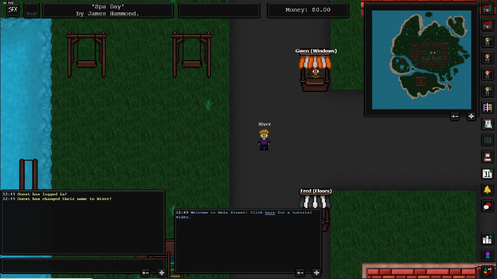 Chat
Below the build menu is the chat window. This will show notifications for people logging in and out as well as what they may want to say. The chat in the game is global across everyone connected to that server.
Below the chat window where you see messages is an input window for you to write messages to the other players on the server.
Notifications
[
]
To the right of the chat is the notifications window. This window will show text from the game about what's going on, such as when you gain and lose money.
Making Money
[
]
Gathering
[
]
Before you can open a store in Main Street, you'll need some money. You can obtain money by gathering around town. Picking Fruit Trees, Berry Bushes, Flower Bushes, Flowers, and Fishing are all methods you can use to get your first few hundred dollars.
Note: Bug Catching is an additional planned gathering feature that is not yet currently in-game.
Selling to Vendors
[
]
Once you have collected things like flowers, fruit, or fish, you will want to find a vendor that buys and sells that item.
When you've located a vendor, most of which are located near the heart of town, you can stand near it and click on it to open the vendor's shop.
To sell an item to a vendor, click on the item in your inventory and then click one of the red dollar sign buttons to sell a certain amount of it.
You can also buy items from vendors, which will be important later when making money in your store and decorating.
Bob (Fruit and Flowers)
[
]
You can sell flowers, fruit, and berries to Bob. He is located in a blue building near the center of town.
Adelyn (Fish)
[
]
You can sell fish to Adelyn. She is located in a brown building near the center of town.
Working For Other Players
[
]
Players who own stores are able to hire other players as "employees." This will grant the employee, which could be you, a wage between $10-$450 per minute.
As an employee of a store, you are able to assist the store owner in stocking their shelves by clicking on shelves that are not fully stocked.
Owning a Store
[
]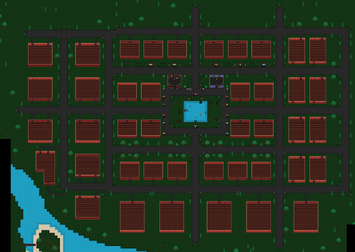 Once you have made at least a few hundred dollars, you are able to start a store, although we recommend you save up a couple thousand so you can purchase a lot of stock and decorate your store right away. When you first start playing, you will only be able to own and run stores in the smaller shops on Main Street. As you progress in the game, you will earn Achievements that will allow you to purchase larger shops, hire more employees, and place more types of decorations in your store.
Note: At the current time you can only own one shop.
Shop Shelves
[
]
Shop shelves can be purchased from certain vendors. These are special items that can be placed in your store and stocked to produce passive income for your store.
Some shop shelves require achievements to unlock, but all of the vendors who sell them will sell at least two shelves that you can get right away.
Building Shop Shelves
[
]
To build a shop shelf, you first need to purchase one so it is in your inventory.
Then you can return to your store, click on the shop shelf so your inventory item is highlighted, and then click on a place on your store's floor where you would like to build it.
Stocking Shop Shelves
[
]
Shop shelves don't produce any money unless you stock them. You can do this by clicking on them to add one stock per click.
You can press the stock fill mode toggle button on the right to switch between stocking single items and entire shelves per click.
Stock costs the store owner (usually you) money to add to a shelf. After some time, the items will sell automatically, and more stock can be added.
When a shelf has no stock left, it will show a sold out sign.
Popularity
[
]
At the top of your screen you'll notice a popularity label with a number if you currently own a store.
Popularity affects how quickly you sell items, and it will go up and down based on a variety of factors including how well stocked your store is and how well decorated it is.
Decorating
[
]
Your store is highly customizable, and as you make it unique you are also rewarded with increased popularity for your store.
All around Main Street there are vendors that sell shop decorations. Look for the "popularity" label in the tool tips for the items so you know how much they are going to affect your store.
You can build decorations just like shop shelves, and some of them can also be rotated by right clicking on them and selecting the rotate button from the context menu.